You can define a land based casino as being a bricks and mortar gambling establishment. In New Zealand, we've got six of them up and down the country, all providing a memorable gaming experience. Whether you're a frequent visitor or you like visiting on special occasions, it's well worth knowing as much about them as possible. You can then make an informed decision about where you want to spend your hard-earned dough!
If you find yourself too far away from any of these, you can try one of the best online casinos for Kiwi players, handpicked and tested by us:
Best Land Based Casinos in NZ
Given that there are six land based casinos in NZ, it makes sense to do your homework. You can learn about the opening hours, facilities, and various features that could make you visit one over another. Whether you're in the North Island or the South Island, you're bound to discover a land based casino in New Zealand that tickles your fancy.
Dunedin Casino
Mere kilometres from Dunedin International Airport is a standout land based casino that can't help but impress. It has been around since 1999 and is popular with both new and seasoned gamblers.
Within a beautiful Victorian-era structure built in 1883, you can play 180 electronic pokies games and a dozen table games like roulette, blackjack, poker, baccarat, and more. In between playing some of your favourite casino games, you can also grab a bite to eat at the Grand Bar & Café and various other bars.
Why not join the Dunedin Casino and claim your membership card for future visits? This casino is well worth a closer look.
Address: 118 High Street, Dunedin
Phone: 03 477 4545
Operating Hours: 11am – 3am
Christchurch Casino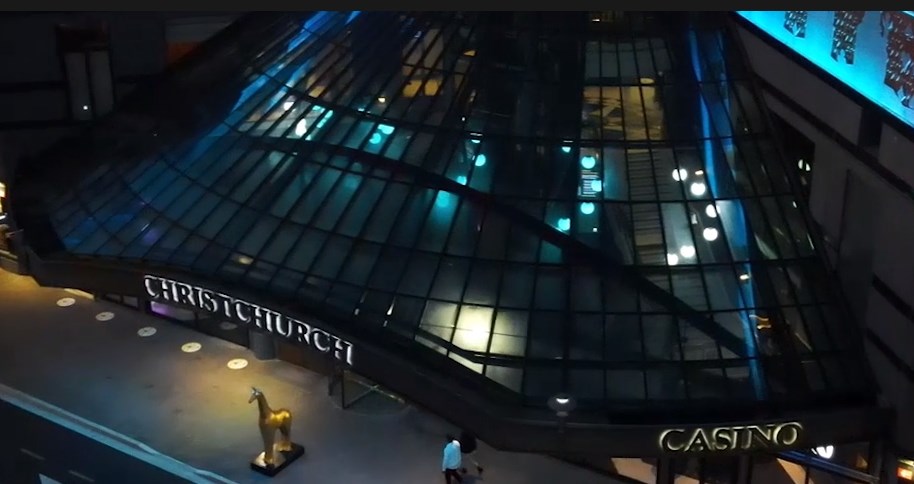 As far as land based casinos go, the Christchurch Casino would have to be one of the most desirable for Kiwis and visitors alike. It was the first to open in New Zealand and played host to the New Zealand Poker Championships.
This casino has 36 gaming tables and 500 slot machines, which means you're never short of something to play. What's more, you can enjoy three restaurants and two bars during your visit, and ample car parking, too. However, you may also be able to access the casino from local hotels and motels courtesy of a shuttle service from 6pm until 2am daily.
Address: 30 Victoria Street, Christchurch Central City, Christchurch
Phone: 03 365 9999
Operating Hours: 11am – 3am
SkyCity Auckland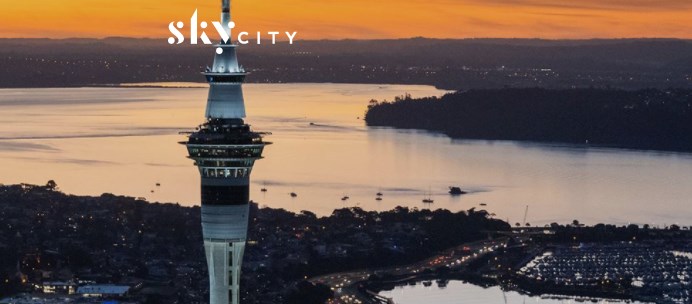 SkyCity Auckland forms part of the SkyCity Entertainment Group, which also incorporates SkyCity Hamilton, SkyCity Wharf, and SkyCity Queenstown. Any visitor to this Auckland establishment is bound to be impressed with the offerings.
This land based casino has been open since 1996 and features over 2,000 slot machines. There are also around 150 table games, like poker, roulette, and blackjack. SkyCity Auckland is open 24/7 for recreational gamblers to treat themselves to a memorable gambling experience.
What's more, it's the second-largest in Aotearoa and is home to multiple restaurants, two hotels, a theatre, and a convention centre.
Address: Victoria Street and Federal Street, Auckland CBD, Auckland
Phone: 09 363 6000
Operating Hours: 24/7
SkyCity Hamilton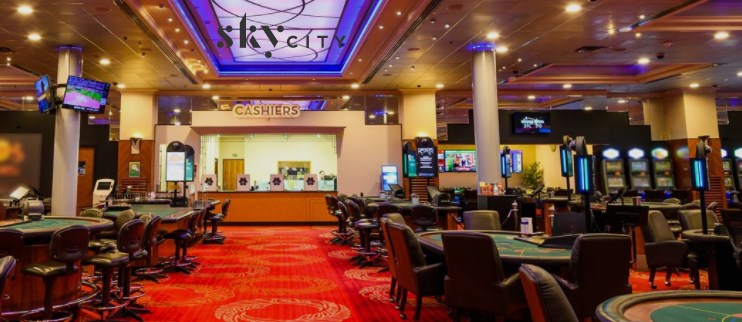 Any visitor to Hamilton can be in awe of the land based casino in the heart of the city. SkyCity Hamilton has been around since 2002 and boasts over 330 pokies machines and 23 game tables. There is also a VIP gaming area, two rewards programmes, and a variety of standout facilities.
In between games, you can treat yourself to delicious food and beverages at the many restaurants. There is also a tenpin bowling alley, the only one in Hamilton.
SkyCity Hamilton is a significant attraction for Kiwis and tourists alike and is centrally placed for easy access around the city. If you're 20 years old or older, it might be time to explore this 24/7 casino for yourself.
Address: 346 Victoria Street, Hamilton
Phone: 07 834 4900
Operating Hours: 24/7
SkyCity Queenstown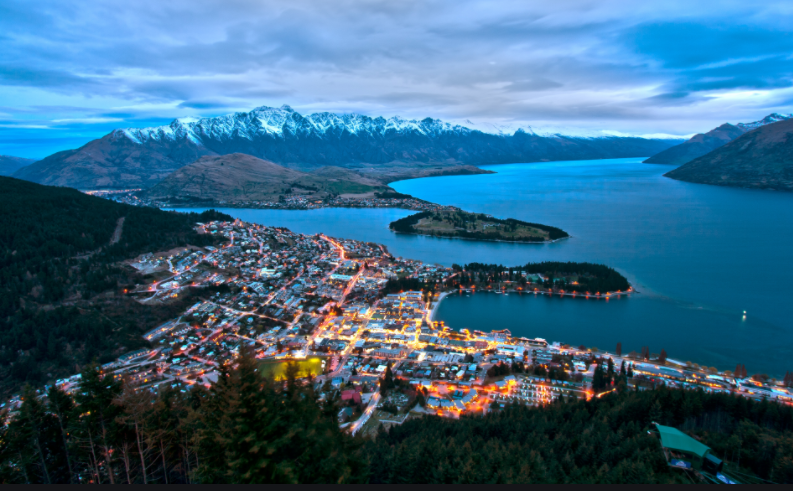 While this casino is a bit smaller than others in NZ, that doesn't mean it's any less deserving of a visit. Located in the beautiful Queenstown, it can be one of many drawcards to the area. There are eight tables, VIP tables, and dozens of pokies machines.
This land-based casino is also well-positioned in the town's centre, which means it's a short walk from various eateries, accommodation providers, and other fun things to do.
Address: Stratton House, Level 2, 16-24 Beach Street, Queenstown
Phone: 03 441 0400
Operating Hours: 12pm – 4am
SkyCity Wharf Casino
While SkyCity Wharf Casino is linked to SkyCity Queenstown, it's a little bit different. It's a boutique casino that used to be known as Lassiters Wharf Casino before SkyCity purchased it. It's located at the same address as SkyCity Queenstown, with the same contact information and phone number, but it is a drawcard to visitors in its own right.
This casino has six gaming tables and dozens of pokies machines. It also offers access to many different entertainment events.
Address: Stratton House, Level 2, 16-24 Beach Street, Queenstown
Phone: 03 441 0400
Operating Hours: 12pm – 4am
Most Popular Games at Land Based Casinos
When you visit a land based casino for the first time, you'll be like a kid in a candy store. There are so many games to choose from, so how do you know which ones to try?
Well, some are more popular than others. A standout option is the pokies machines. There tends to be dozens, if not hundreds, at most land based casinos in NZ. There are also dozens of table games to try, like blackjack, poker, roulette, and baccarat.
Features of a Safe Land Based Casino – How Do You Know It's Safe?
New Zealand has pretty strict laws when it comes to land based casinos. All of them must abide by every rule, regulation, and law. As a result, you can trust that any legally-operating casino in NZ is classed as safe. But how do you make double sure?
Fast Payouts
If you win money, you want to be able to access it almost immediately. A trustworthy land-based casino is one that has a transparent and fast withdrawal process.
Legitimacy
If you're unsure about a casino's reputation, then check its legitimacy. All casinos operating in New Zealand must have licences and permits to operate.
Game Variety
The best and safest casinos in NZ are those that have plenty of game types for everyone. You should be able to play your favourite pokies games, then join a table for a game of roulette, blackjack, poker, or baccarat.
Advantages and Disadvantages of Land Based Casinos
Whether you've already been to a casino in New Zealand or you're going to one, it pays to know what you can enjoy and what you may dislike.
| | |
| --- | --- |
| Advantages | Disadvantages |
| Luxurious, exciting, and stylish | Distance – need to travel to them |
| Clean and tidy and offer standout eateries | |
| Many casinos have attached hotel conveniences, bars, restaurants etc. | |
Online Casino Alternatives
JackpotCity

LeoVegas

Spin Palace

Ruby Fortune

888
If you don't feel like leaving your whare, but you are feeling lucky, then you don't have to go to your nearest land based casino. Instead, you can play casino games online. They are an excellent alternative and one that even Kiwis with strict gambling laws in place can access.
Benefits of Online Casinos
There are many benefits of online casinos. The most obvious is that you can stay at home. Lounge around in your PJs and still play your favourite casino games that you'd typically get dressed up to play at a bricks and mortar casino.
You can also try out different options until you find one you like with just the click of a mouse. Given how spread out casinos are in NZ, that's not possible with as much ease if you're visiting an in-person one.
People also like how the themes of online casinos change from one to the next. If you don't like one theme, you can move onto another casino – it's as easy as that. There are also responsible gambling policies in place, which means you can set limits on your spending and even close your account. These policies are a little trickier to implement in real life, even if land based casinos do their best.
Online Casino Bonuses
Online casino bonuses are plentiful, and some people find they are a lot easier to access and understand than what you would receive at casinos across Aotearoa. Here are some of the most popular and common ones below.
Welcome Bonus
A welcome bonus is a perk you receive when you sign up to an online casino for the first time. Often, these bonuses include percentage matches on your first deposit and free spins.
Free Spins
Free spins are a desirable bonus when you first sign up and as you get more involved in gameplay. Sometimes, the casino operator will offer them to introduce a new game. You may even receive free spins as a daily bonus.
Percentage Matches
Percentage matches are quite common for new and existing players. This bonus involves being rewarded a percentage of your deposit amount on top of what you already deposited. Let's say you're offered a 100% match up to $150, and you deposit $150. You then receive $300, instead of your $150 deposited amount.
In some cases, percentage matches can have a wagering requirement, but not always. This means you must play through the amount of your bonus a certain number of times before you can withdraw the money you won with it. The most common wagering requirements can be anywhere from 10x to 60x.
No Deposit Bonuses
No deposit bonuses are rare at online casinos, but not impossible to get. Sometimes, you can even get in touch with the support team through live chat and see if there are any no deposit bonuses like free spins you can claim.  
Online Casino Games
Online casino games are not that much different from those you find in land based casinos. The only difference is, you are playing them on a computer, tablet, or phone.
Slots
Slots are the most popular option in both land based casinos and online casinos. They tend to be offered by leading software providers like NetEnt, Playtech, and Microgaming. People love the thrill that slot games provide, along with the many different themes and styles of gameplay available.
Table Games
Table games, like slot games, are desirable both online and in person. Whether you're sitting at a real table or your computer screen, you can enjoy poker, baccarat, blackjack, roulette, and more. There is usually a dedicated table games section at an online casino so that you can access the very best games with minimal effort.
Live Games
If you can't get to a land based casino, but you want to experience the thrill of a live environment, then you're in luck. At some of the best online casinos, you can participate in real games with live studio dealers.
You can get dressed up for the occasion if you please, but you don't have to worry about getting to your nearest casino. These games are hosted by some of the best casino software developers in the industry.
Land Based vs. Online Casinos
Given that there are advantages and disadvantages associated with both land based and online casinos, you may be wondering which one is right for you. The truth is, both can have a place in your life for recreational purposes.
A land based casino, of course, offers an authentic gambling experience. It's a social occasion and one that can prove memorable for all the right reasons. Many Kiwis love arranging weekends away with their friends, staying in nice hotels attached or near the casinos, and eating delicious food at on-site restaurants.
But there's no denying the convenience of online casinos. Day or night, you can log into your online casino of choice and play a game of your choosing. You can then save a fortune on transport, accommodation, and food.
The game variety is mostly the same between the two. Still, some of the authenticity is lost when you don't visit a real casino. In saying that, software developers are creating advanced platforms that mimic the real-life atmosphere of a bricks and mortar casino as much as possible.
| | |
| --- | --- |
| Pros | Cons |
| Authentic gambling experience | You have to travel |
| Social occasion with friends | You have to leave your house |
| On-site entertainment and eateries | There are sometimes set operating hours |
| The game variety is the same between the two | You have to spend money on travel, food, and accommodation |
Final Thoughts
We are blessed here in New Zealand to have access to some standout casinos that sit proudly up and down the country. Many of them operate 24/7 and are also within proximity to accommodation, desirable eateries, and entertainment.
You can play all your favourite casino games and experience an authentic gambling experience. You can even make it a social occasion!
In saying that, there is also plenty of merit in online casinos. With advanced software and technology, they are becoming more and more interactive and on-par with land based casinos by the day. Why not try both an online and in-person casino for yourself and see how they compare?
FAQ
What is the age limit for gambling at casinos in New Zealand?
To enter and play at casinos across New Zealand, you must be 20 or older. You will need to take ID with you to prove your age.  
What forms of ID are acceptable at casinos in NZ?
Casinos in NZ will accept any current government institution-authorised ID that has your name, date of birth, and photo. This can be from New Zealand or overseas, including a current passport, driver licence, and HANZ 18+ card, or similar.  
What clothing do I wear to a casino in NZ?
The dress code at most NZ casinos is neat and tidy. Clean clothing and footwear that aren't dirty or damaged are generally acceptable.  
Do you have to pay tax on your casino winnings at NZ land based casinos?
Generally, no. Gambling at casinos is a recreational activity, not one that counts as an income.
How many land based casinos are there in New Zealand?
There are currently six. These are based in Dunedin, Christchurch, Auckland, Hamilton, and Queenstown.