Novomatic casinos are undeniably impressive. They feature interactive games with seamless animation, not to mention fun themes and a variety of options. Best of all, they come courtesy of Novomatic AG Group, one of the world's largest high-tech gaming technology companies.
From some of the best slots games in the industry to Novomatic software that's leagues ahead of its competition, there's every reason to give a Novomatic Casino a try. Read on to learn what's worth knowing before you sign up today.
Novomatic Overview
Novomatic has been leading the way in offline and offline games since its inception, and it's showing no signs of slowing down. This company has offices in dozens of countries, not to mention 20,000 workers who go above and beyond to stay ahead of the iGaming curve.
As a result, you don't have to look too hard to discover a Novomatic casino that welcomes Kiwis with open arms. Some of the very best online casinos are the fruits of this superior company's labour.
Novomatic Software
When you operate a successful, long-standing gaming technology company, you're going to need the best software. This company ultimately has it.
You will find proof of this in any of the thousands of land-based casinos, not to mention the many online casinos that are formed on the foundations of Novomatic. Some of their games even have some of the highest RTP percentages.
What will stand out to you the most about Novomatic online casino software is its harmony. From the animation and graphics to the sounds and themes, all games are proof of what software providers are capable of in this largely digital age.
Sure, Novomatic casino games are often simple or labelled as "classic", but that's what many Kiwis love about it. After all, we follow the K.I.S.S method here – Keep it Simple, Stupid.
Best of all, they are responsible for the creation of over 300 games and are now leading the way on the mobile front, as well.
Novomatic Gaming Platforms
If you're confused about why you don't see Novomatic branding plastered everywhere, then there's a reason for that. This company operates with multiple gaming platforms to offer a multi-faceted approach to online gambling.
The NovoLine™ system offers server-based gambling with plug 'n' play compatibility with the NovoLine VLT system. Then there's CoolFire, which combines innovation with technology in gameplay for a user-friendly gaming experience.
ImperaLine is one of the latest platforms to join the family. It's an HD platform with the goal of providing the best video slot entertainment. Online casino operators who want an out-of-the-box approach to online casino games may make use of Octavian Game Technology. The game design and distinctive characters are described by Novomatic as a "unique approach".
Novomatic Casino Bonuses
When you sign up to a Novomatic casino, you might be wondering if there's a Novomatic casino no deposit bonus headed your way. Or, at a minimum, a few free spins. Fortunately, Novomatic works with many established casinos to make sure they can offer some ka pai perks to Kiwis. These are available for both new players and loyal followers.
Novomatic Casino Free Spins
Free spins and Novomatic casinos are two things that go hand in hand. Whenever a casino using Novomatic software releases a new game or wants to highlight an existing one, they often offer players free spins. These can come at random, in an email promotion, or during gameplay. In most cases, you don't have to enter a bonus code.
It's rare to come across free spins as a Novomatic casino no deposit bonus, but not impossible. However, for any bonus at Novomatic online casinos, it pays to read through the terms and conditions to find out if there are any catches with those spins, such as wagering requirements.
Novomatic Casino Welcome Bonus
You won't find too many Novomatic casinos that don't offer a welcome bonus for new players. When you sign up for the first time, you can receive exciting perks like free spins and deposit matches.
One of the most popular and exciting welcome bonuses is the 100% deposit match up to X number of dollars. For example, if you deposited $50 upon registration, you may be able to receive a 100% match on that ($50) for free!
It's worth reading through the terms and conditions to find out the wagering requirement on that free money. It could be anything from 10x to 60x, which means you must play through those winnings that number of times before you will be able to withdraw your winnings. It's a small price to pay for getting something for nothing!
Novomatic Casino Games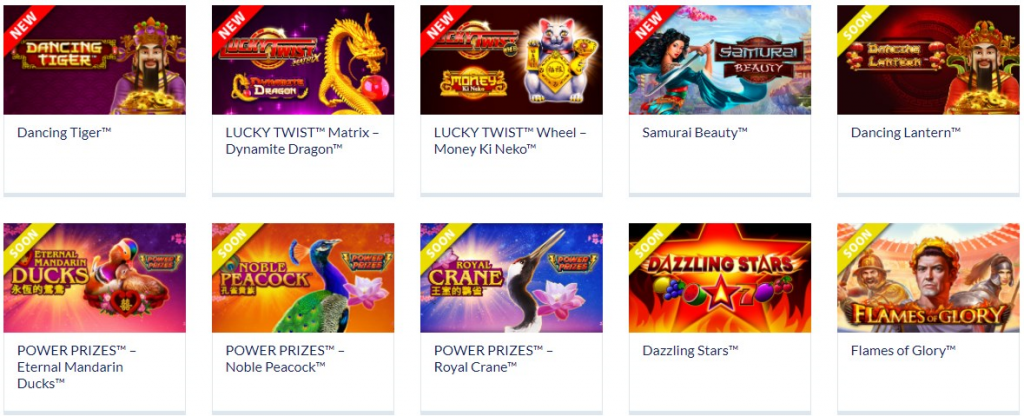 While Novomatic pokies are definitely what this company is well known for, it's not all they do. In fact, alongside Novomatic slots, you can also play poker games, bingo, baccarat, blackjack, backgammon, and roulette. You can even try your hand at the lottery.
All of these games come under Novomatic's many gaming platforms, such as ImperaLine, Octavian Game Technology, CoolFire, and NovoLine.
The poker lover in your whanau is bound to jump at the chance to play Novomatic American Poker 2, which is one of this software provider's most popular games. It's operated on the CoolFire platform and offers mini bonuses and an eclectic mix of vintage and contemporary styling.
Then there are the many different blackjack and roulette varieties with every gameplay style you could think of. Keep it simple with classic, or opt for something different like a French or European game of roulette where the rules are slightly different.
Novomatic Slots
Given that Novomatic's claim to fame was its land-based pokies machines, it makes sense for them to be leading the way in online slots, as well. You get to choose from both classic and contemporary games, with an ever-expanding portfolio to hold your interest.
Just when you think they couldn't create another standout pokies game, they go and deliver once more. Now, they are the proud producers of over 300 pokies games.
The Book of Ra
Of course, some are going to stand out more than others. Take The Book of Ra, for example. This game has been riding the wave of popularity for years. Novomatic, understanding this, has made sure they have focused on improving the gameplay and graphics while making sure the prizes on offer are nothing short of impressive.
But why is it so popular? Much of the reasoning is down to the theme. It's of an ancient Egypt theme involving a map to ancient riches from a mythical book. Whether you play the original or a sequel or variant, you get to enjoy this unique and riveting theme that Kiwis seem to adore.
Vintage Slots
But what about the game that has featured in land-based casinos and pubs for decades before slowly making its way online? Another pokies game that Kiwis love involves fruits and 7s. From the hint of nostalgia to the classic slot action, there's plenty to love. This Novomatic slots game is also proof that you don't have to fix what's not broken.
Lucky Lady's Charm™ Deluxe
Lucky Lady's Charm™ Deluxe is a five-reel, ten-line game on Novomatic's CoolFire II's platform. This classic slot is all about giving you good luck charms!
Free Slot Games at Novomatic
Many New Zealanders can be a bit wary of handing over their hard-earned money for games they don't know how to play quite yet. That's okay! If you're a bit dusty or you want to get to grips with a newly-released game, Novomatic has you covered.
You can play in 'demo' mode – as a registered player and, sometimes, as an unregistered player. In demo mode, you can get to grips with the game's features to see if it's something you are interested in. Then, if you are, you can register, deposit your money, and unlock the pay-to-play version for your chance to win real money!
Jackpot Slots
Playing regular Novomatic casino games is quite a fun way to pass the time when you're hanging out in your whare. But do you know what can be even more fun? Progressive jackpot slots. Novomatic offers casino operators both standalone progressives and linked progressives.
Some of the most popular jackpot pokies include Book of Ra, Tales of Darkness, and Thunder Cash™. Any of these games can offer the chance to win hundreds of thousands of dollars, if not millions!
Tales of Darkness™ Midnight Heat is a dark and exciting NovoLine game with five reels and ten rows. All symbols in this game pay left to right in all positions. In contrast, Thunder Cash is a progressive link slots game that allows you to link up and cash in.
It features a coin re-spin feature, vibrant graphics, and a variety of thrilling themes. You can play with Emperor's China™, Empress of the Pyramids™, and The Great Conqueror™.
All you need to do to take advantage of these and other standout progressive slots games is visit a Novomatic casino, register, and head to the progressive slots category.
Novomatic Mobile Casinos
Novomatic is a big fan of classic designs and 'rocking it old school', but that's not to say they aren't up with the play when it matters the most. Did you know that there are over 3.5 billion smartphone users in the world? People love carrying a mini computer in their pocket that can do everything – including play games.
So, it makes sense for Novomatic casinos to be mobile. Whether you want to play table games or slots games, you can do just that. The best part? There's no need to download an app.
It has only been in the last few years that Novomatic has made use of such technology. They developed an HTML5-based online slots platform that was compatible with both Android and iPhone users. All you need to do is select the casino operator you like the most, then access the site using your mobile device. The little robots working behind the scenes will take care of the rest.
Why Do Kiwi Players Love Novomatic Casinos?
A more straightforward question would be, 'why wouldn't Kiwis love a Novomatic online casino? This is a company that has worked hard to establish itself in the offline and online market over several decades.
Rather than stick with just land-based casinos, they tapped into a largely unpopulated market and smashed it to pieces. Before long, they had over 22,000 workers, subsidiaries in dozens of countries, about 1,900 gaming facilities, and billions of dollars in the bank.
It also helped their case that they worked hard to create a safe atmosphere for online gamblers in Aotearoa and around the world. They have eCOGRA certification and operate with random number generators.
This leading gaming technology company has also won many awards, such as Casino Supplier of the Year for two years running in 2018 and 2019, and Best Recruiter in 2019.
Then there is, of course, the game variety. With over 300 games under their belt with a heavy emphasis on slots, it's hard not to see this company as progressive, innovative, and competitive.
| | |
| --- | --- |
| Pros | Cons |
| Substantial games variety | Minimal progressive jackpot game selection |
| Award-winning company | |
| Global presence | |
| Safe practices | |
| Mobile-friendly platforms | |
| Advanced software | |
Final Thoughts
From the superior Novomatic software to the abundance of Novomatic casino games and bonuses, it's hard not to be impressed by this gaming technology company. They have a global reach, deliver new games to casinos all the time, and are at the pointy end of technological advancements.
Whether you fancy a game of baccarat, a flutter on the pokies, or want to try your hand at poker, you can rest assured that all manner of Novomatic casinos delivers the goods.
FAQ
Do Novomatic casinos offer progressive jackpot slots?
Yes. There are a few popular options like The Book of Ra, Thunder Cash, and Tales of Darkness.  
Does Novomatic offer bonuses at its casinos?
Yes, this company works with various casino operators to provide free spins, deposit matches, welcome bonuses, and more.  
Are Novomatic casinos safe?
Yes. They use a variety of safety measures to make sure players remain safe. This includes eCOGRA certification and random number generator use.  
Can you play slots games at a Novomatic casino for free?
You can play demo games to get a lay of the land before you deposit money and play with real cash for real cash.
What game variety does a Novomatic casino have?
Slots games and table games are some of the most popular offerings. They have over 300 different games for Kiwis to play on their desktop or mobile devices.